Guess What???
I'm teaching at Art and Soul Workshops!!
Portland Oregon in March 2022!! Hope you can JOIN ME!!
Snippets and Stitches… Wed. And Thursday March 16/17 9:00- 4:30
For details and to register… Go to…
We will explore a variety of watercolor techniques to create a selection of lovely collage materials focusing on nature based icons and patterns. Then, we will assemble collage pieces using these materials and finish the piece with 3-D embellishments and hand stitching.
Available Materials Fee $50 paid at beginning of class includes:
Winsor and Newton Cottman Watercolor set
Winsor and Newton Colorless Masking fluid
Canson Watercolor paper 11" x 15"
Brush set of 12 brushes
Supplies Needed to bring for Class:
Supplies above if you do not purchase the kit AND:
Any ephemera they like(books or magazines, postcards, etc…
Any small 3-D elements they wish to include in their pieces.
Instructor will also provide:
Straws
Oil
Alcohol
Colored pencils
Embroidery floss and needles
Glue
Scissors
Xacto and blades
Cutting boards
Masking tape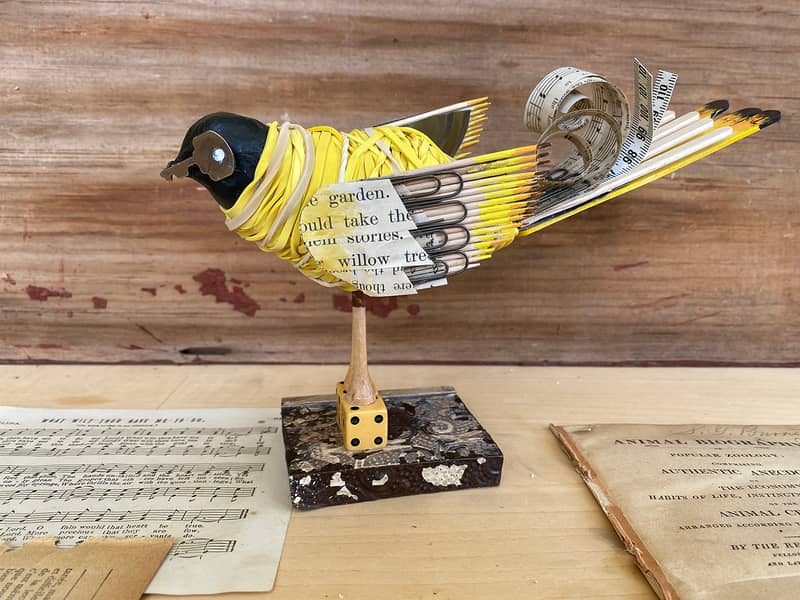 Artful Junk Birds… Friday March 18th 9:00-4:30
For details and to register… Go to…
Each student will take their stash of fabrics, vintage finds and every day materials and upcycle them into a one of a kind assemblage bird.
Materials Fee $20 paid at beginning of class includes:
For making the basic bird…​
Original Sculpey Clay
Galvanized tin flashing
Two nails for legs
Two brads for eyes
E-6000 glue.​​
Supplies Needed to bring for Class:​​
These choices for embellishing the bird listed below will give each bird a look authentic to each creator​
Options for the base tail feathers:
​popsicle sticks
toothpicks
old ruler
old paintbrushes
wooden clothes pin
wooden skewers (the Dollar Store is a good place to shop!)​
Options for the bird bases:​​
decorative tins
cigar boxes
ceramic rice bowls
tea cups
old spools
drift wood
nests
wooden bird houses
ceramic or resin balls​​
Options for embellishments:​​
ribbons
cording or fibers
vintage ephemera from books,etc…
old jewelry
fabrics
embroidery
embroidery thread
buttons
silk or paper flowers
rhinestones
dried flowers
paper clips
toothpicks
craft paints… colors of your choice​​
Additional materials that instructor will provide:​​
Liquitex Matte Gel medium
sponge brushes
For ease of holding the bird:
Irwin Quick Grip clamps ( small or med. size)
paint brushes
craft glue(an option for gluing fabric and fibers) Plastic gloves
Wire cutters
Scissors​​
Additional retreats next year include:​​
Artful Junk Assemblages May 9-12 Milton, Ky
Watercolor Collage Sept. 5-8 Verteillac, France
Mixed Media Collage October 17-20 Milton, Ky
Details on these coming soon!!​