#coloricombo 2023: The second #coloritree prompt
Here is the second prompt for the Instagram challenge that I am currently co-hosting with Este MacLeod.
Have you checked out the gorgeous art already posted at #coloritree?? Beautiful work!!
---
"It has been said that modern art is international but it is important for a great nation to make a cultural stand. My wish is to see a combined attempt by our artists to give us an art that no other country in the world can produce."
– Margaret Preston
---
The second artist to be featured in this #coloritree March Challenge is Margaret Preston. Preston (1875-1963) was one of Australia's most significant modernist painters and was known for her paintings and woodcuts of local landscapes and native flora. She was also one of the first non-indigenous Australian artists to use Aboriginal motifs in her work.
Preston was born in Adelaide and moved to Sydney in 1888 for studies under the landscape painter William Lister Lister. These were followed by further education in Melbourne and at the Adelaide School of Design. She travelled to Europe in 1904, studying in Munich and Paris and later travels brought back to France and to London at the outbreak of World War One. There she studied pottery and had work exhibited at the Royal Academy.
On her voyage home in 1918, Preston met her husband who had served in the Australian Imperial Force. They settled in Sydney where she worked on still lifes in a modernist style and began working in woodcut. She established herself as the most prominent Australian woman artist of the 1920s and 1930s.
Preston continued to travel extensively, throughout the Pacific, Asia, India and Africa and had a keen interest in non-European art and culture. She was particularly interested in exploring the relationship between colour, shape, and texture in her art and featured uniquely Australian subjects, such as native flora and fauna or scenes from domestic settings.
Throughout her career, Preston was a strong advocate for the promotion of Australian art and culture. She was a member of several art societies and wrote extensively on Australian art and its place in the world.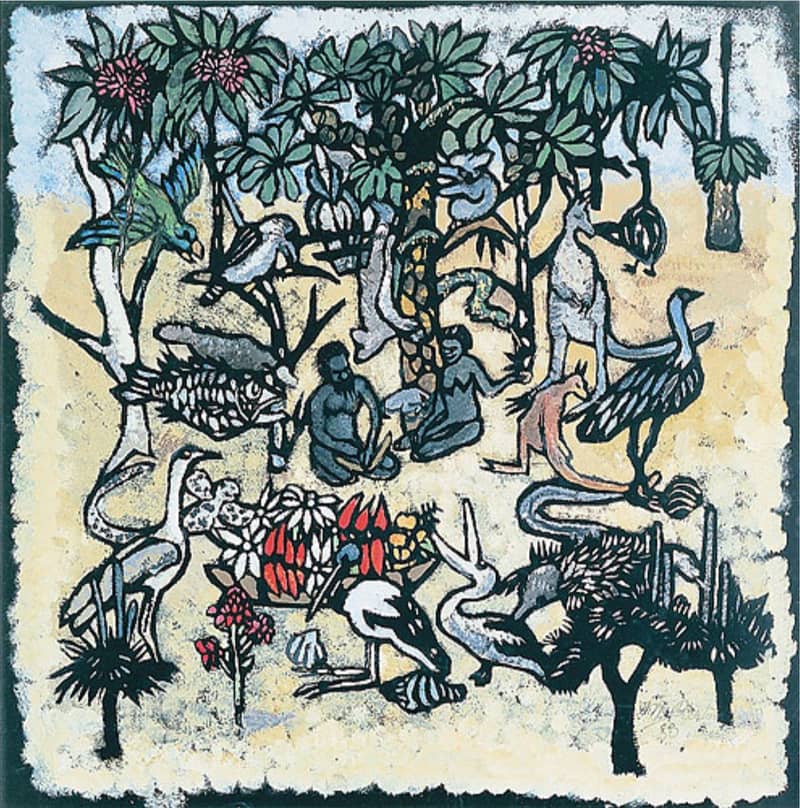 "Adam and Eve in the Garden of Eden", Colour stencil, gouache on card, Margaret Preston, 1950
---
Colour Combination
The colours for this weeks prompt are Blue Skies, Eucalyptus, Dough and Pewter Blue.
For this March Challenge, please add the tag #coloritree along with the usual #coloricombo and #estemacleod and tag @lorisiebert.studio when posting on Instagram. You are also welcome to post on the private Facebook group Creative Prompts with Esté MacLeod.
March Challenge
This is the second prompt for #coloritree, part of the ongoing #coloricombo 2023 challenge. There will be ten posts in total, all linked to artworks featuring trees by female artists from the past. These will be released on Monday and Thursday until the end of March.